Home Learning
What to expect from remote education where national or local restrictions require students to learn from home.
Plus, helpful tips on how you can support your child.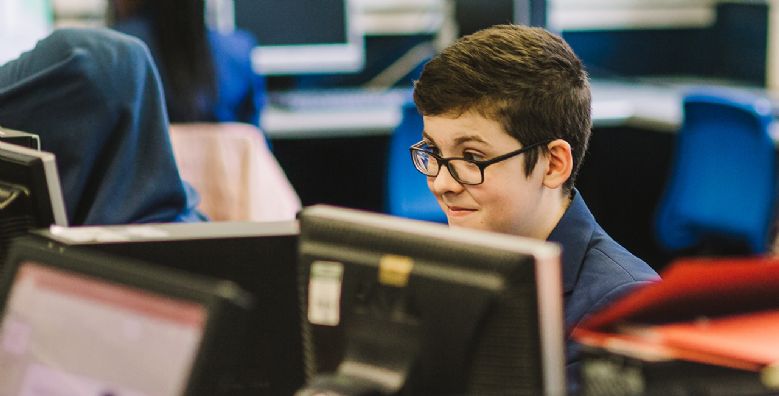 Supporting your child's learning at home
Parents' interest and involvement in their children's learning is consistently associated with positive outcomes for children of all age groups
The evidence suggests that three areas are particularly worth focusing on:
Supporting parents to have high academic expectations for their children;
Developing and maintaining communication with parents about school activities and schoolwork; and
Promoting the development of reading habits.
This section of our website will provide resources on how to support your child at home with their learning and reading. Should you wish to discuss how you can support your child's learning further please do not hesitate to contact Mr Fletcher, Deputy Headteacher: scott.fletcher@coopacademies.co.uk
Using a knowledge organiser
Typically, knowledge organisers span much more information than can be quizzed on sensibly at any one time. Find out more with the PDF information sheet below:

Supporting reading at home
Shared reading is a great way to develop children's language and communication and to boost their reading skills. Regular reading routines can offer lots of opportunities for learning during school closures. Find out more with the PDF information sheet below:

Google Classroom
Google Classroom is set up for all students to access learning from home for all subjects.
During periods of school closure, teachers will send and set your work through Google Classroom. All your work will be sent to you this way rather than by email.
It has several benefits for you:
You only have to look in one place for your work
You can communicate directly with each of your teachers
Your teacher can mark and return the work you complete with help and advice
Your teacher can share resources, set up quizzes and tasks for you
It gives you access to Google's versions of Word (Google Docs), Powerpoint (Google Slides) and Excel (Google Sheets)…all for free!

What you need to do
Your username for Google Classroom will be your normal school email address
Login to Google Classroom at: https://classroom.google.com/
Accept the invites from your teachers to join your lessons
Look in the 'Classwork' section on Google Classroom which will show you any work you have been set
Take a look at this Google Classroom help document and videos below which might help you:

This video shows you the basics of how to log in, join classes and see what work you have been given.
This brilliant step-by-step video from Ms Torkington will help you log on to Google Classroom, get started with accessing the lessons and tasks set for you and show you how to submit your completed work:
Remote Education Provision
Remote education provision: information for parents
This information is intended to provide clarity and transparency to pupils and parents or carers about what to expect from remote education where national or local restrictions require entire cohorts (or bubbles) to remain at home.
For details of what to expect where individual pupils are self-isolating, please see the final section of this page.

The remote curriculum: what is taught to pupils at home
A pupil's first day or two of being educated remotely might look different from our standard approach, while we take all necessary actions to prepare for a longer period of remote teaching.

What should my child expect from immediate remote education in the first day or two of pupils being sent home?
All staff will be setting work on Google Classroom from the start of lockdown. This work will be set in line with your child's timetable. If your child is sent home to isolate due to contact with a positive case and the school is still open, work will be set from the next day.

Following the first few days of remote education, will my child be taught broadly the same curriculum as they would if they were in school?
We teach the same curriculum remotely as we do in school wherever possible and appropriate. However, we have needed to make some adaptations in some subjects. For example, in practical subjects the work set will be mainly theory based due to the students not having specialist equipment at home. In PE, the class teacher will set work which can be done practically at home. This may involve the use of fitness videos, fitness exercises and tests and mat based activities.

How long can I expect work set by the school to take my child each day?
We expect that remote education (including remote teaching and independent work) will take pupils broadly the following number of hours each day:
Key Stage 3 and 4 : 4-5 hours a day

---

How will my child access any online remote education you are providing?
Your child will access their remote education through Google Classroom.

If my child does not have digital or online access at home, how will you support them to access remote education?
We recognise that some pupils may not have suitable online access at home. We take the following approaches to support those pupils to access remote education:
All parents of students in school have been asked to fill in a questionnaire about their child's access to equipment at home which allows them to use the remote learning software. Students who have been identified as not having this equipment have been provided with laptops from school. As Google Classroom can also be accessed through an Xbox or Playstation unit students who are not able to purchase a keyboard or mouse to use with this can contact school, via the school phone number – 0161 794 6215, to borrow one from school.
For students who do not have internet at home or access to WiFi, the parents can contact school, via the school phone number- 0161 794 6215 to enquire about being provided with routers or dongles. If a student needs extra mobile data they can apply for that through the school Google Survey that has been issued to all parents. These requests are then sent to the DfE who will contact the parent/carer directly in order for them to receive the additional data.
We are confident that all students and parents who do not have access to equipment at home to access our online learning can be provided with this. However, if a student still cannot work for a specific reason at home they need to contact their Pupil Progress Coordinator so that we can meet their needs.

How will my child be taught remotely?
We use a combination of the following approaches to teach pupils remotely:
At both Key Stage 3 and 4 teachers will use a range of approaches in order whilst teaching remotely. These lessons will be linked to the schemes of learning and will include a range of presentational methods such as PowerPoint presentations/Google Docs, Word documents, audio and video.
Commercial websites such as Seneca, Maths watch, Hegarty Maths and YouTube will also be used where appropriate.
We are piloting some live and recorded lessons in certain subjects for initially Key Stage 4 learners. Printed paper packs produced by teachers (e.g. workbooks, worksheets).

---

What are your expectations for my child's engagement and the support that we as parents and carers should provide at home?
As a school we expect students to engage with the work set by their teacher and to provide examples of their work via Google Classroom. Parents and carers should be ensuring that their child has a set routine for completing work and checking whether they have completed tasks.

How will you check whether my child is engaging with their work and how will I be informed if there are concerns?
Class teachers will be checking whether a student has engaged with the work set through their Google Classroom mark sheets. If a student is not completing the work set they and their parents/carers will be contacted by their teacher via email, text or phone. If the child still does not engage with the work the Head of Department will be informed and they will be in contact. In the unlikely event that the student still continues to not complete work their Pupil Progress Coordinator will be in contact and an online interview may be conducted with the student and parent.

How will you assess my child's work and progress?
Feedback can take many forms and may not always mean extensive written comments for individual children. For example, whole-class feedback or quizzes marked automatically via digital platforms are also valid and effective methods, amongst many others. Our approach to feeding back on pupil work is as follows:
Class teachers will be setting work according to the student's timetable. Included in this work will be a task each week, for most subjects, which will test the student's understanding of the work. This may be set as a longer piece of writing, a retrieval activity, a consolidation question, a quiz or a series of short questions based on the work. For subjects which only teach a student once a week this checking of understanding will be included fortnightly

---

How will you work with me to help my child who needs additional support from adults at home to access remote education?
We recognise that some pupils, for example some pupils with special educational needs and disabilities (SEND), may not be able to access remote education without support from adults at home. We acknowledge the difficulties this may place on families, and we will work with parents and carers to support those pupils in the following ways:
For students who have SEN, class teachers have been advised by the SENDCO to break down the set work, where possible, into manageable 'chunks'. So that the student can follow the instructions, which may be audio or written. The SEN department are also supporting SEN students by:
Twice Weekly Contact with parents of EHCP pupils to support learning at home offering advice to parents pupils, providing passwords, assistance according to needs communicating with teachers when necessary
Making sure families have necessary resources for work completion ie Laptops
Regular contact with SEN pupils /parents Class teachers are ensuring learning is inclusive and accessible to all the children in their class-emailed teaching staff to remind them of issues with SEN pupils and learning from home
Taking the pressure off to get home learning completed, this is causing anxiety and stressful times for some children and families. Let parents know that it is ok if they cannot get the set learning done;
Many children are not virtually connecting with friends or having any virtual social communica-tion. Anxiety help sheets encouraging social interaction with friends sent to teachers' pupils and parents
Contacting outside agencies supporting pupils with home learning
Nurture pupils contacted on a regular basis by Nurture teachers
We are contacting pupils in Nurture through Google Classroom and setting tasks
Supporting the pupils with SEN who are in school with classroom support and contact
Differentiated work packs/booklets and practical resources provided, either by sending home or parents collecting from the school every few weeks or as needed by the family
Children having the opportunity to send learning to their teachers, teachers giving feedback
Supporting teachers with any requests, providing advice

---

Remote education for self-isolating pupils
Where individual pupils need to self-isolate but the majority of their peer group remains in school, how remote education is provided will likely differ from the approach for whole groups. This is due to the challenges of teaching pupils both at home and in school.
If my child is not in school because they are self-isolating, how will their remote education differ from the approaches described above?
If a student is self-isolating whilst the rest of the school is still in the student's class teacher will set work from the next day. This work will be set on Google Classroom and will follow the student's timetable and the work set for the rest of the class. Where this is not possible due to specialist equipment being used, the class teacher will adapt the work set so that it can be accessed at home.
Safeguarding support during home learning
Should you have concerns about a child during the period of time whilst our school is temporarily closed, here are some helpful websites and contact numbers to help you.

Worried about a child?
Safeguarding Support
In the unlikely event of you having a problem whilst at home there will be school staff available to contact via telephone during normal school hours (8am-3pm)
In the event of an emergency, please phone:
Miss Withers : 07889 646834
Mr Duke : 07872 417176

Safeguarding Contacts during school closures
Should you have concerns about a child during the period of time whilst our school is temporarily closed, here are some helpful websites and contact numbers to help you:

Charity/Foodbank Support
Should you require help with food bank donations or financial support, please click HERE for a list of local charities/food banks that may be able to help families during a period of school closure. It is worth noting that families cannot just turn up to the foodbanks, you will need a food voucher first. For details of agencies who can provide these please visit: salford.foodbank.org.uk/