Homework
We believe homework is a necessary part of the education we provide.
It trains students to work independently and encourages them to develop the study and research skills necessary for today's form of examinations.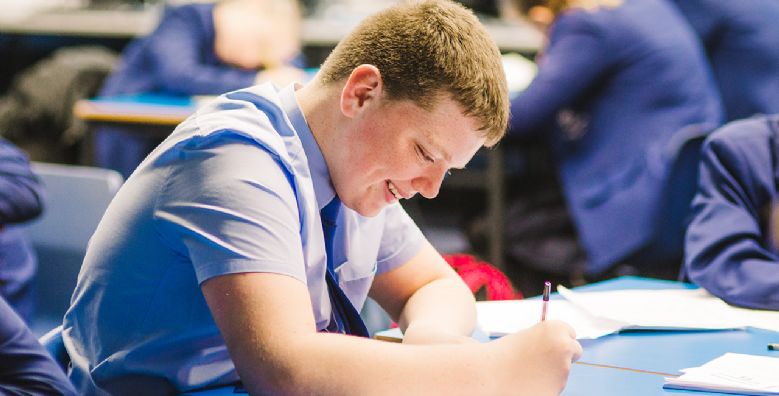 Homework is set for all students for each weekday evening. Your support as parents is absolutely essential and we ask you most sincerely to take an interest in the standard and presentation of the work submitted.
During Key Stage 3, homework normally occupies at least one to one and a half hours each evening, increasing to two hours or more in Upper School. If your child is usually spending either far more time than this or far less, please draw the matter to our attention.
Each student will receive a Student Planner for them to enter all homework they are given. Parents/carers are asked to check and sign it each week. If your child is not completing homework, this will be recorded by the subject teacher in the Student Planner. Students will receive corrections if homework has not been completed, or is not completed to an acceptable standard.

Homework during Year 7
For their first half-term with us, Year 7s are not given daily or weekly homework, but instead are set the task of creating a 'project' based on a topic of their choice which they are then asked to present at an annual event where we invite parents/carers to join us. During their second term homework will focus specifically on English, Maths and Science moving on to all subjects starting in term three.
Homework Timetable 2021-2022
Homework Timetable 2021-2022
From the PDF Homework Timetable below you can identify the days that homework will be set and for which subjects.
How can you help your child with homework?
| | | |
| --- | --- | --- |
| Type of homework | What your child does… | What you can do to help… |
| Learning | The job is to remember certain words, facts, details or rules | Act as a question master or a tester |
| Completing | Work already started in school is to be finished at home | Look at the whole piece of work and perhaps make useful comments. Ask what the whole task is about. |
| Writing up | Your child will use homework time to write about work done in school or write a finished version of rough work done in school. | Again, look at the whole piece or, even better, talk about it briefly first, to get the work clearly ingrained in your child's mind and jog his/her memory. |
| Questions | A matter of answering questions after a lesson's work. | Check the answers. Do they give the exact information wanted in the questions? |
| Finding out | Searching for information on a given subject. Part of this homework might be done in the school library/resource centre in the student's own time. | Don't do too much for them here! But encourage and help when they are stuck. It is obviously better to suggest where they might find the information than find it for them. |
| Revision | Quite simply a matter of learning a section of work for a test or an examination. | Get your child to explain the work to you. You ask the questions once they are ready. You can even 'mark' the answers if you like. |
| Reading ahead | Reading on ahead in a text book to get some ideas of what work is to come – and be ready for it. | Be aware of what they are doing in the subject at the moment; be interested in what your child has found out. |
| Rough work | Here, the students are asked to prepare for a lesson to come by putting ideas or information down on rough paper. | Suggest a starting point perhaps. Once finished, ask them to read the work to you. Even if it is rough the rules of spelling and punctuation still apply. |
Useful Websites
Here are some useful links to websites that you may find useful for revision and homework:
Homework Club
Our library facilities are available for students to complete homework during the school day at break and lunchtime to support children.
Your support as parents/carers is absolutely essential and we ask you most sincerely to take an interest in the standard and presentation of work submitted.
Maths Homework via Sparx
In our Maths department all homework is delivered via our Sparx programme. Please encourage your child to complete this homework on time; it is a proven programme to boost progress in Maths. See the parent guide here for advice on how the programme works and how you can help your child.